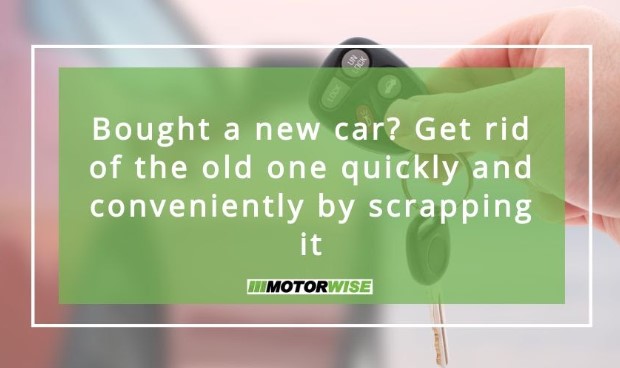 Bought a new car? Get rid of the old one quickly and conveniently by scrapping it
If you've bought a new car, the chances are you want to get rid of your old one as quickly as possible. Rather than selling it, or offering it to the first local scrap merchant who answers the phone, instead consider contacting Motorwise. We can offer you a great scrap price for your old car, collect it, and process it in the most environmentally friendly way possible.
There's no more convenient way to get rid of your old car.
Parting with your old vehicle
Getting a new car is always exciting, but it leaves you with a problem of what to do with your old one. You can't always part exchange your vehicle, as depending on its age and condition certain traders won't be interested. So, what do you do with it?
You could try and sell it, of course, but you have to wait for a buyer to present themselves. You could sell the car in an afternoon, but, the likelihood is that you will have to put up with the old car at your property for weeks, maybe even months, until a buyer is found.
Scrapping is a much more convenient option - but some scrap merchants won't process the vehicles they collect in an environmentally friendly way. If you want to make sure your car is collected quickly and as much of it is recycled as possible, you need to contact Motorwise.
Using Motorwise to scrap your car
At Motorwise, we're experienced vehicle recyclers who operate nationwide. That means we've been able to streamline our service as much as possible, making it fast and easy to arrange the collection of your vehicle.
All you have to do is contact us by phone, or use our online contact form. Give us the details of your vehicle and we'll come back to you with a quote. We keep daily tabs on the global scrap market, to ensure we're offering our customers the fairest possible prices for their vehicles.
With the deal accepted you can book collection at a time and date that suits you. We'll arrive, examine the vehicle, and if it's in the condition you said it was we'll authorise payment and take it away - that's all there is to it. All you need to do is let the DVLA know it's gone and enjoy your new car.
For the fast, efficient, and environmentally friendly way to get rid of your old vehicle, contact Motorwise.