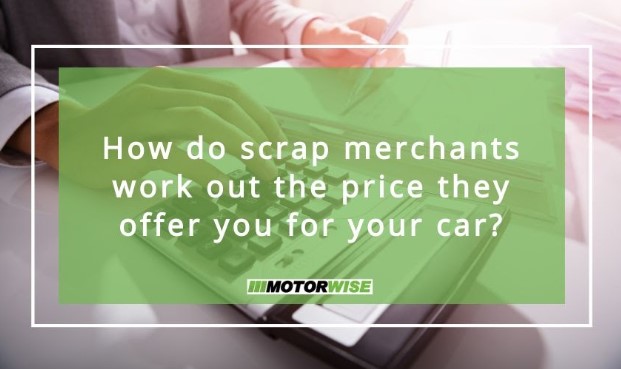 How do scrap merchants work out the price they offer you for your car?
If you're browsing car salvage services, you may be wondering how the scrap price is worked out for your vehicle. It can seem like some traders simply make up what they offer you, but the truth is there is actually a specific way the price for your scrap vehicle is generally worked out.
At Motorwise, we always try to provide the best possible prices.
Step one, your vehicle's current state
The first part of determining the quote you will be offered for your vehicle is to establish how complete it is. The completion of your vehicle is actually far more important than the general condition of it. This is because scrap prices are determined on weight, rather than the actual condition.
So a worse condition vehicle that is more complete will actually often get you a better quote than a better condition vehicle that is missing many parts. It can be tempting to want to turn your vehicle into parts before you scrap it to try and get the most amount of money back from it that you can. But bear in mind that this might make it unprofitable for a scrap merchant or vehicle recyclers to come and collect it. This might mean you end up with a parted out hulk of a vehicle that nobody wants, which might cost you money to take away.
Step two, assessing global markets
The global scrap market is interconnected and worldwide scrap prices are changing every day. Sometimes they rise, sometimes they fall - when you choose to scrap your vehicle will determine whether you get a higher quote or a lower one. Most scrap merchants and vehicle recyclers will use the global scrap price as a way of determining the quote that they offer - offsetting what they can make in profit against the global price.
This is where you want to make sure you contact a reasonable and responsible vehicle recycler, such as Motorwise, that you can trust to give you a fair quote for your vehicle.
Scrapping your car with Motorwise
If you want to scrap your vehicle, do it the easy way with Motorwise. We operate nationwide, so wherever you are in the UK you should either contact us directly or get your quote online. Our quotes are constantly checked against the global scrap prices, to ensure you get the fairest deal.
Getting rid of your scrap vehicle is easy when you choose Motorwise.