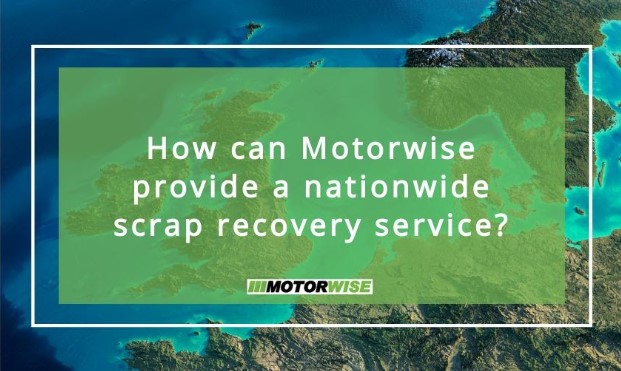 How can Motorwise provide a nationwide scrap recovery service?
Motorwise is proud to offer our customers around the UK a nationwide vehicle disposal service. Wherever you are in the country, if you no longer need your vehicle, you can contact Motorwise to get rid of it. But how do we actually do that? How do we ensure all of our clients throughout the country get the same great service?
Working with approved partners
Motorwise has partnered with a number of dedicated and experienced vehicle recyclers and scrap merchants throughout the UK. This means that we have developed a network of trusted affiliates who we work with to provide a reliable and dependable nationwide vehicle scrapping service.

When you get your quote from Motorwise, we will put you in contact with the nearest suitable agent who can collect your vehicle. They will work with you to determine the right time and date to collect your vehicle, in many cases even on weekends, and they will oversee its collection and processing.
This means that we can guarantee a fast, reliable, and totally professional service from Motorwise wherever you are in the UK. We will always have a partner operating near you.
Why not use a central hub?
So why don't we handle the collection and processing of every vehicle ourselves? It's simply not practical to offer a truly nationwide service while still collecting and processing every vehicle "in house". Travelling the length of the country to collect one vehicle simply would not be viable. There is the potential to "group up" collections, but this would limit our ability to work as efficiently within your schedule.
By partnering with multiple partners throughout the country, we're able to offer our clients the best of all worlds - you get a fair quote and Motorwise's reliable service, but you also get a convenient time to have the vehicle collected. This means you can fit the collection around your busy life.
Scrap your vehicle today
If your vehicle is ready to scrap, Motorwise can help you get a fair price for it and get it collected at a time and date to suit you. It couldn't be easier, all you do is contact us or use our online form to get your free no-obligation quote. One of our local partners will then be in touch.
With Motorwise, wherever you are in the UK, you can depend on the same level of convenience and reliability when scrapping your vehicle. Contact us today.