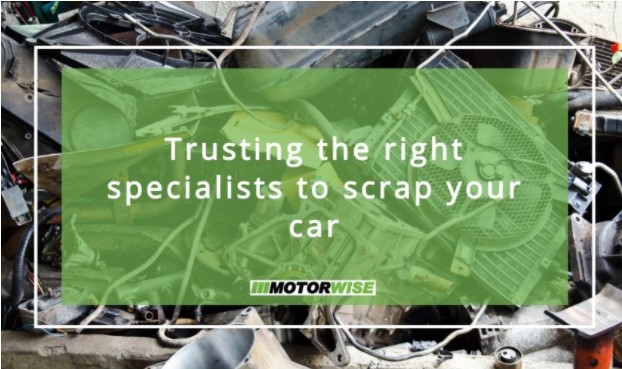 Trusting the right specialists to scrap your car
Taking the decision to scrap your vehicle can be a tough one, but when you have made it you still have another decision to make - namely, who do you trust to scrap it for you? There is an increasing number of vehicle recyclers and car salvage specialists out there, but knowing who will do it the right way can be hard.
What do you need to look out for? And is there a simple way of choosing the right specialists?
What are the official signs?
Licensing is important in the world of scrap, as it shows the dealer is conforming to official standards of code and practice in the way they process their vehicles. For example, Motorwise is an Environmental Agency approved Waste Carrier Broker. An ATF is an Authorised Treatment Facility, which means they handle scrap vehicles in the most environmentally friendly way possible, and conform to official guidelines.
You can only get a proper Certificate of Destruction from an Authorised Treatment Facility.
Most treatment facilities and waste brokers will proudly display their licensing and certification, but if they do not provide it even on your request, you should stay safe and keep well clear of them.
How do you find a trusted scrap merchant?
The easiest way of ensuring you only deal with trusted professionals is to use a licensed broker because they do the hard work for you. For merchants like Motorwise, reputation (ensuring they only work with trusted dealers) is highly important, having built up a nationwide network of fully licensed partners.
Nationwide salvage and scrap brokers will always look for Environmental Agency, Scottish Environmental Agency, or Natural Resource Wales accreditation - depending on where the ATF is located.
What does that mean for you?
When you contact Motorwise, we will pass you on to one of our local partners to organise the collection and processing of your vehicle. Our stringent measures mean you can be confident that the local salvage dealer we choose to contact you is properly licensed and certified.
With that comes several things - the knowledge that your vehicle will be handled in the most environmentally-friendly and efficient way possible, safe and legal payments for your vehicle, and an authentic Certificate of Destruction. All of these are important if you want to scrap your vehicle properly.
For more information, or to get a quote for your scrap vehicle, contact Motorwise today.