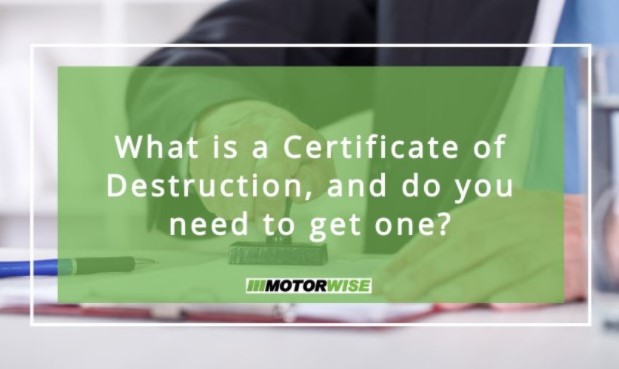 What is a Certificate of Destruction, and do you need to get one?
When you choose to scrap your car, you may be familiar with the concept of a Certificate of Destruction - but what actually is one? And do you need to get one when you scrap your car?
What is a CoD?
A Certificate of Destruction is a confirmation that a vehicle has been scrapped. Much like a SORN is an official notice that a car has been taken off the road, the CoD is simply an official designation that shows the vehicle as having been destroyed. It will be issued by the DVLA.
Do you need to get one?
In short, no. It's not a legal requirement for a vehicle owner to receive or keep a Certificate of Destruction when they scrap their vehicle. Depending on the scrap car service you choose, you may get one anyway - some scrap dealers send a copy to the last keeper as a matter of course. You may want to keep it for your records, but you're under no legal obligation to, so you can destroy it if you wish. A Certificate of Destruction IS a legal requirement for Authorised Treatment Facilities, but not for car owners.
What is your obligation?
Just because you don't need to get a Certificate of Destruction doesn't mean you have no obligations, however, when you scrap your car. When you scrap it, you're legally obligated to inform the DVLA that you have done so - you can do this by sending in the completed relevant section of your V5C.
You can either then send it via post, or you can choose to update the details online. You must do so immediately, however, to make sure the DVLA is notified of the change of ownership. It's no different to the process you would follow if you had sold the car normally.
Choosing professional dealers
To make the scrapping the process as simple as possible for you, it's always best you choose a fully licensed and reliable Authorised Treatment Facility. To make sure you're doing that, be sure to get your quote through Motorwise - we have a network of fully licensed ATFs nationwide. Every ATF in our network fully conforms to the regulations and guidelines of their respective environmental body.
It has never been easier to scrap your car, get your quote from Motorwise today.