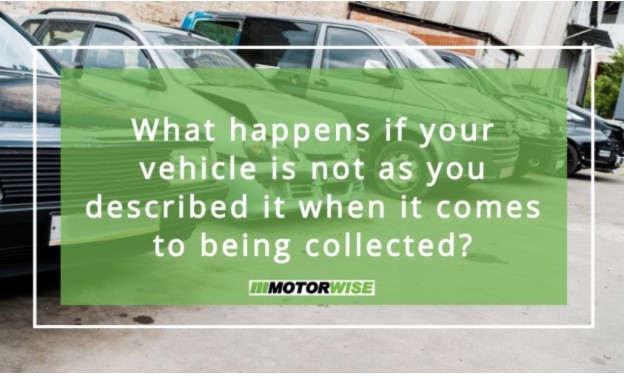 What happens if your vehicle is not as you described it when it comes to being collected?
When you choose to scrap your vehicle through Motorwise, or indeed any other method of scrapping it, you will be required to give an indication of your vehicle's condition. It's essential you are as honest as possible at this point, to ensure you can be given the correct quote and the vehicle can be arranged for collection.
But, mistakes happen, so what will happen if your vehicle is not as it was described?
Why does accuracy matter?
It's important to understand why accuracy matters when describing the condition of your vehicle. First, of course, is for the sake of sheer fair play. At Motorwise, we do everything we can to ensure that we're as honest and transparent with our customers as possible - it would be nice for that gesture to be returned.
Secondly, it's to ensure that the price we pay is fair. A car doesn't have to be totally complete for it to be accepted, but it does have to be accessible and able to be safely loaded onto a recovery vehicle. If it's presented as being in acceptable condition and the vehicle salvage service finds it with wheels missing and bodywork crumbling, you can see why that might present an issue. So then, it's important to be as accurate as possible when describing it.
What happens if it's not as described?
So what will actually happen if the vehicle recyclers arrive to collect your scrap vehicle and find it in considerably worse condition than it was described? If the car is still accessible and can be safely transported, they may still agree to take it, but the quote you were given will have to be revised. You're under no obligation to accept that, of course, but if you don't the vehicle won't be collected.
If the vehicle is judged to be in considerably worse condition than described, or is inaccessible or cannot be taken away for any other reason, you may be required to pay a "wasted journey fee".
It might be tempting to embellish certain aspects of your vehicle's condition in the hope of getting a better quote for it, but the reality is that honesty is always the very best policy. If you describe your vehicle accurately, then the quote we give you will be what you're paid and it'll be a stress-free collection for both you and those who collect your vehicle.