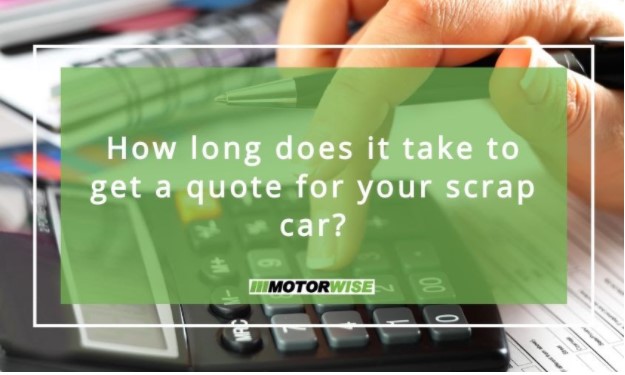 How long does it take to get a quote for your scrap car?
If you've chosen to scrap your car, getting the quote and then arranging scrap car collection as quickly as possible is a priority. But how long will it actually take you to get a quote for your scrap car? The answer, when you use a vehicle scrap service such as Motorwise, is probably a lot faster than you think!
How long will you have to wait?
If you make an application online for a quote, you can get it pretty much instantly. It really is that fast. A professional vehicle scrap service will be checking the global scrap prices basically daily, which allows them to calibrate the offers they provide to customers. So when you come to get a quote, it's instant.
Remember that the condition of your car doesn't matter so much as the completeness. So there's no need for complications when it comes to quoting for different models and specs. What matters is the car being complete, and the weight of the scrap metal that it can provide. This is how your basic scrap car quote is generated.
So, when you apply online, you can get a quote immediately.
What about the rest of the process?
So applying for a scrap car quote online is easy, and it will only take you seconds to get a price for your vehicle. What about the rest of the process? It's pointless getting a quote in seconds if you're going to have to wait weeks for your vehicle to actually be collected - but the good news is that you won't!
If you've had your quote through Motorwise, we have a nationwide network of professional vehicle recyclers and scrap specialists who we work with to provide a timely and reliable scrap collection service to our customers.
They will then get in touch with you, normally within a few hours of you making your quote. They will confirm your details, the vehicle's details, and the quote before determining the best time to collect your vehicle. It's up to you when you want it to be collected, it can usually be within as little as two days.
This makes it so easy for you to fit your scrap vehicle collection around your busy schedule. So if you need to scrap your vehicle, get yourself a quote immediately from Motorwise. Apply today.