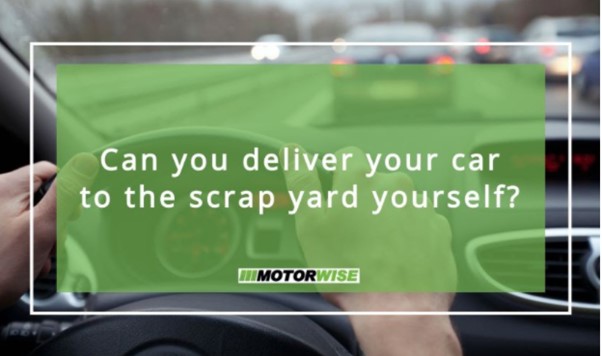 Can you deliver your car to the scrap yard yourself?
Scrap vehicle collection is a tried and tested part of the vehicle disposal process, but it might be more convenient for you to actually take the vehicle to the car salvage yard yourself. Can you actually do it? And is there a reason you would want to?
Can you deliver the vehicle for scrap yourself?
Put simply - yes! As a part of the quotation process, you'll be provided with the details of the nearest authorised treatment facilities to you. At Motorwise, we have a nationwide network of specialist partners, so there's sure to be one reasonably nearby. Generally, this is just to make sure you know who you're dealing with when they contact you after you get a quote, but you can also use this to determine if it might be easier for you to drop the vehicle off yourself. There's nothing stopping you from doing so!
As long as your vehicle is still in a roadworthy condition and it's still legal for you to drive it, then you can take it to the treatment facility yourself. The handover process will still be the same, and all the paperwork can be handled when you arrive.
Why would you want to deliver the vehicle yourself?
So, is there a reason you might want to drive your own vehicle for scrapping? Possibly! If you drive the vehicle yourself, you might be able to get a slightly better quote for it. Collecting scrap vehicles incurs expenses - the car transporter, the fuel, the person who is driving it, and the time taken out of the day all cost money. These costs will be automatically factored into the quote that you're given, to help keep the vehicle recycler's business viable. If you deliver the car yourself, however, they're not incurring those costs, so you might be able to get a better quote for your car. This isn't guaranteed, however, so don't presume it.
On another level, you may simply find it more convenient to deliver the car yourself - you won't have to wait in on the day of collection until the driver comes to collect it, and you won't risk disturbing your neighbours with the sound of machinery.
Whether you choose to have your scrap vehicle collected or you want to deliver it yourself, make sure you contact Motorwise to get the fairest quote and the most convenient service possible.