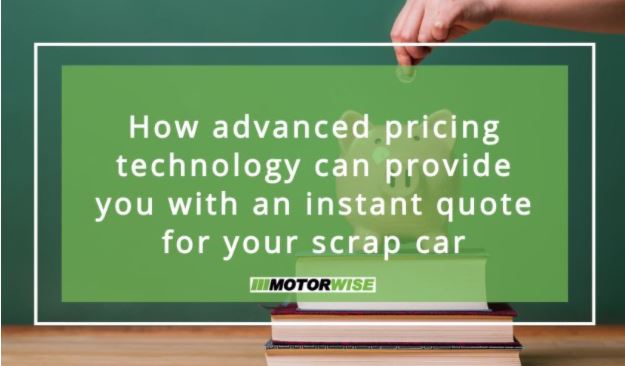 How advanced pricing technology can provide you with an instant quote for your scrap car
If you want a quote for your scrap car, you're likely thinking you'll have to wait a while for it. A load of details are going to be required about the car, the age, the condition - right? Wrong! Motorwise uses advanced pricing technology, which means that armed with nothing more than your vehicle's registration number you can get a quote instantly.
And when we say instantly, we really do mean instantly - just try it for yourself!
What is advanced pricing technology?
Advanced pricing technology is implemented to allow us to keep a constantly updated view of global scrap prices. The fluctuations in global scrap prices are one of the key things that determine the quote you're offered for your scrap vehicle - when prices are up you get a higher quote and when prices are down you get a lower one. It's really that simple.
That is implemented seamlessly with the quote generation technology, to mean that with nothing more than your registration number you can get a quote instantly. The computer uses the registration number to pull up your vehicle's official dimensions, including its weight, which is one of the most important things when it comes to determining scrap value. That is then offset against the global scrap prices at the moment you applied, and in the blink of an eye, you have your quote.
It has never been easier or faster to get an online quote from a car scrap service.
What happens after your quote?
So does the process crawl to a halt immediately after you get your quote? No! An instant quote is pointless if it's still going to take a long time for you to have the collection of the vehicle organised. What happens is after you accept the quote your details will be passed on to the authorised treatment facility whose quote we provided. We have a nationwide network of valued partners, allowing us to provide the same impeccable quality service wherever you happen to be in the UK.
They will call you back in a maximum of just four business hours, at which point they will arrange the most convenient possible time and date to pick up your vehicle. You can have it picked up from home, from your work, from a garage or you can even choose to drive the vehicle to them yourself - you might get a slightly better quote doing it that way.
However, you choose to scrap your vehicle, get your quote instantly with Motorwise.