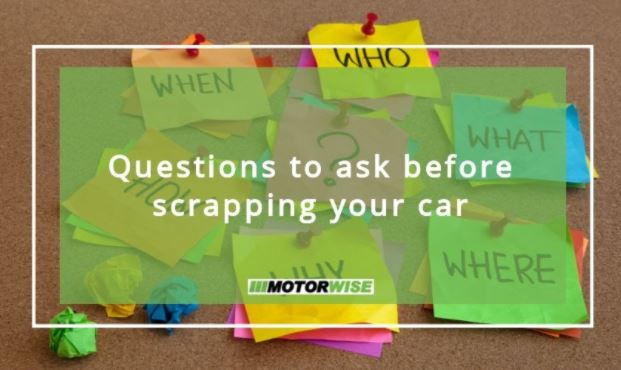 Questions to ask before scrapping your car
If you're thinking of scrapping your car, it's vital that you understand how the process works before agreeing to a quote. With this in mind, let's take a look at six of the key things to ask your chosen recycling centre.
1. How much will I receive for my vehicle?
This will depend on the age, model and make of your car together with the value of any reusable parts and its scrap metal. To get an instant quote, you'll just need your registration and postcode, which are used to compare prices being offered for similar cars in your area. It's worth bearing in mind that your quote may be reduced if you have a CNG or LPG fuel system.
2. How soon can my car be collected?
Once you accept a quote, your chosen recycling centre will typically call you within 4 business hours to discuss a convenient time and date to collect your vehicle. At Motorwise, most collections are arranged within two working days. Note: your car must be located on ground which is solid enough to allow access for a recovery vehicle.
3. Do I need to contact the DVLA before scrapping my car?
It is your legal responsibility to inform the DVLA you are no longer the owner of the car. Once your car has been collected, the recycling centre will fill out their details on Section 9 of the V5C, so make sure you post this to the DVLA immediately.
4. I don't have a V5C, does this matter?
If you don't have a V5C, send a letter to the DVLA to inform them that ownership of your vehicle has been transferred to the recycling centre.
5. Will I receive a Certificate of Destruction?
No. If your car is scrapped, the recycling centre will produce a Certificate of Destruction and submit this to the DVLA. However, if you would like a copy for your own records, your recycling centre will be able to supply you with one.
6. Do I need identification to scrap my car?
Yes. You will need to provide photo ID (showing your name and address). Accepted forms of photo ID include your driving licence, a valid passport (UK or EEA) or a valid UK biometric immigration document. Accepted supporting documents include a credit or debit card statement, a council tax statement, a utility bill or a bank statement.
To find out more about scrapping your car, contact the team at Motorwise today.