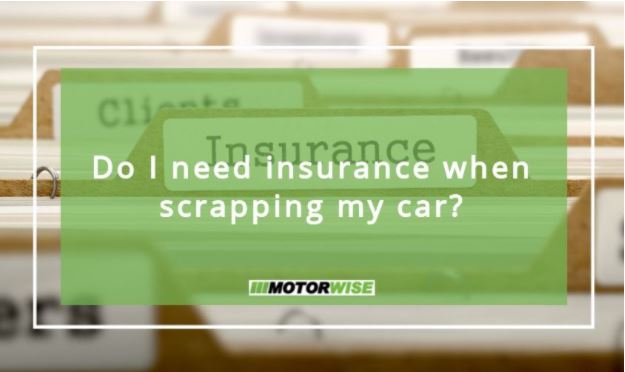 Do I need insurance when scrapping my car?
You could need to scrap your car for a number of reasons, and when it comes to it, you are going to want to do it properly. It could be that you have had an accident and the car is not salvageable or you can no longer drive. No matter the reason, you might still have insurance on your car and wonder what happens to this when it comes to scrapping your vehicle. This is why we have put together a guide to tell you all you need to know.
When you need insurance
When it comes to getting your car scrapped, one of the things drivers often find the most stressful is wondering what to do about insurance. Who is liable for the car? When does the responsibility for the vehicle leave your hands and go into that of someone else's? If your car is parked on the road (no matter if it is driveable or not) you need to have insurance. It is your responsibility to ensure this is in place until it is collected by the scrap company. Only once this has happened does the responsibility leave your hands.
When you don't need insurance
If you store the car on your property and you have a Statutory Off Road Notification (SORN) which tells the DVLA your car is not driven and is off the road, there is no need for you to have any insurance. While it saves you some money, it is worth noting that your vehicle isn't covered in the case of any damage or theft, so if you want to keep your no claims bonus in the unlikely event of something happening, it is worth talking to your insurance provider before cancelling.
Avoid taking out two policies
If you have a new vehicle coming to replace your old one, you probably don't want to insure both at once. Try and time it so you receive your new car on the day your old one is taken to be scrapped as then you only need to amend your current policy. This way you won't have to fork out for two policies at the same time.
Do I need to let my insurer know I'm scrapping my car?
You don't technically have to inform your insurer when you scrap your car, but it is best to notify them anyway. If you don't, you will just continue to pay for a vehicle that no longer exists. You do, however, need to notify the DVLA right away of a car that is being scrapped, but you can check the details and logistics out on our website here.
To find out more about scrapping your car, get in touch with us at Motorwise today.